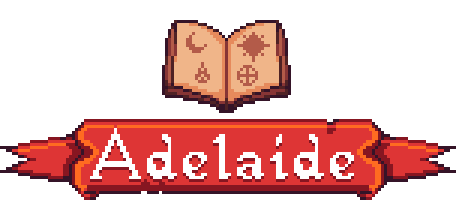 Adelaide
Visual Rework and OST Progress
---
It has been a VERY busy few weeks for the Adelaide development team. We are shooting for an open beta by the end of 2021 - hopefully sooner. But before we can get there, we are taking a step back and re-evaluating the entire look and feel of the game.
Over the past few weeks, we've been experimenting with different art concepts, and while we're revising literally every piece of art in the project, we are most notably shifting from a straight top down view to an angled side-view more commonly seen in 2D gaming.
This shift in perspective will let us maintain the precise gameplay that's been at the heart of the project since day 1, while giving a much more expressive feel and detailed look at the world in Adelaide. I don't yet have much in the way of screenshots to share, but I am thrilled with the direction we're moving and ecstatic about seeing Petrich animated in detail from the side, which will let us make sure she is as expressive as we imagine her. Ace and I will have a lot more to share in the coming weeks, and will be happily posting a deluge of Petrich animations once we have them in place.
In the meantime, you can take a gander at these quick clips with very much placeholder art to see a new take on the Inventory screen as well as a fun "explosion of items" effect when opening a chest, just to make getting a ton of loot feel that much nicer. Again, these have placeholder sprites that are not the final design of... basically anything. But who doesn't love seeing an explosion of items regardless?
Meanwhile, in Music Land...
Cactusbear is just absolutely nailing it on the OST side. We opted to begin our journey into the music of Adelaide by going with two polar opposite tracks: the calm, serene town theme, and the blasting, epic, complex and dynamic music for the midpoint boss fight.
For the first preview of the OST, enjoy the calm and welcoming work-in-progress town theme titled "A Place of Our Own":
That's all for now. Really looking forward to posting screenshots of the new rework, but we're not quite ready for that yet. In the meantime, I'll be posting clips of music, gameplay and some behind the scenes on how some of the more interesting systems are built, so follow here or on twitter @playAdelaide!
~Michael